Adventure Munting Buhangin Beach
---
Hiking
Discover the bio diversity of our mountains, rivers and cascading waterfalls which are surrounding Munting Buhangin Beach by foot. Read here about suggested tours....
BIKING
The immediate surrounding is a mountain bikers paradise with many single trails from easy to hard to explore and enjoy. Read here about suggested tours....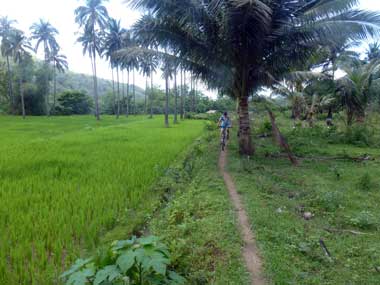 SNORKELING
Explore the crystal clear water, with powder white sands, smooth pebble beach, or rough coral rubble shores. Discover the coral garden reefs right in front of Munting Buhangin Beach.
BEACH HOPPING
Hire a boat and travel by banka to go around the other beaches nearby..
CAVING
Cross 7 rivers and pass 7 hills to reach the giant cathedral Luang Baga Cave. Requires an overnight camping at the foot of the cave.
LAKE VISIT
Lanas Lake. is almost a hundred hectare body of water located in Barangay Cabacao and once home to Mindoro's crocodiles
puerto galera visit
The bustling tourist town and beaches of Puerto Galera are just a 30 minutes banka ride away or for the tough minded a three hour hike along boulders and jungle trail For more information about Puerto Galera activities please click here